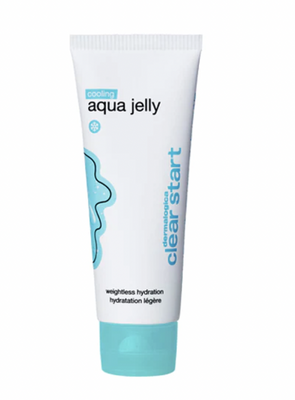 Cooling Aqua Jelly
Dermalogica
$49.00
This jelly-based cooling moisturiser has a weightless formula and a water-like texture, leaving the skin feeling refreshed and lightly hydrated. It contains a retinol-like bioflavonoid complex which helps reduce excess oil and refine skin. Hyaluronic Acid locks in moisture to deeply hydrate skin. Blue Tansy Flower Oil and brightening Blueberry Extract help calm and soothe skin while providing antioxidant benefits.
Benefits
Helps reduce excess oil and refines skin texture
Hydrates and cools skin for a refreshed feeling
Calms and soothes while brightening the skin's appearance
How to Use
Apply a pea-sized amount over the entire face and neck as the last step in your routine.
Use day and night.
SKU: 10000-142