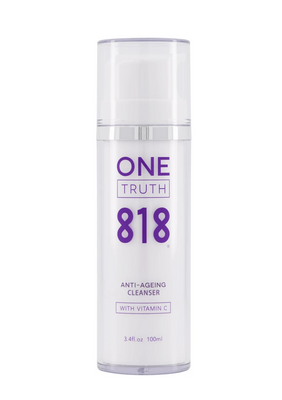 One Truth 818 Anti-Ageing Cleanser
One Truth 818
$79.00
One Truth 818 has added an Anti-Ageing Cleanser to their Scientific Skincare Range – and it's here in time for Xmas!

Have confidence using the One Truth 818 Anti-Ageing Cleanser, knowing that while you cleanse your skin you are not accidentally damaging it.

We know many products cause irritation and inflammation to the skin which leads to forced repair through cell division, accelerated telomere shortening and ultimately, premature ageing. The New One Truth 818 Anti-Ageing Cleanser follows the scientific principles of Corneotherapy: to repair and maintain the skins barrier and integrity while effectively cleansing it.

Lightly foaming, with 15% Vitamin C and brimming with antioxidants, organic aloe vera, organic coconut and a cocktail of essential oils for skin health. This unique sulphate-free formula is brightening, antibacterial and anti-ageing.
With daily use One Truth 818 Cleanser will improve skin texture, reduce appearance of wrinkles and protect from the elements.
15% Vitamin C
Antioxidant Rich
Organic Aloe Vera and Coconut
Anti-ageing and anti-bacterial
Improve skin texture, reduce the appearance of wrinkles and protect from the elements
Enhanced with Centella Asiatica, Rosehip Seed Oil, Borage Oil, Orange Peel, Oregano Extract, Vitamin E, Dandelion Extract, Wild Geranium
Sulphate Free
97% naturally derived, 72% organic
Vegan Friendly
Not Tested on Animals
SKU: 10000-110