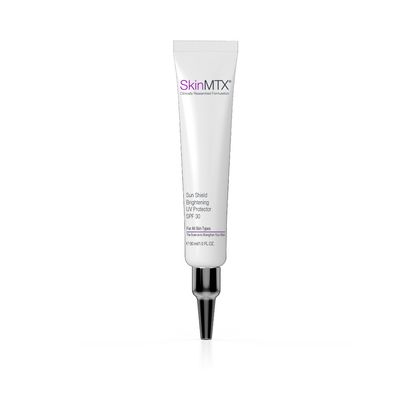 Smart Shield Prime Protector SPF 50
Skin MTX
$95.71
Provides Sheer Coverage and Controls Shine
30 ml
This light, smooth Smart Shield Prime Protector SPF 50 UVA/UVB tinted sunscreen blends seamlessly with most skin types and colours, imparting an even skin tone and light coverage while providing broad-spectrum defence against the sun's damaging rays. Nourishing extract of Portulaca Oleracea protects the complexion against environmental aggressors and helps defend the damaging effects of free radicals, while Aloe Vera Extract conditions skin and soothes sensitivities. Skin is enlivened with a natural finish and is adequately shielded from photodamage.

Protects skin against broad-spectrum UV rays and photo-aging with high SPF 50
Universal she provides light coverage to unify skin tone and correct imperfections
Nourishes and soothes skin while helping to target free radical damage
Omega 3-enriched for sun damage repair and collagen synthesis
Full-spectrum suncare that brightens the complexion
Directions for use:
Every morning, dab a small amount on thoroughly cleansed and toned face and neck and smooth on evenly. Repeat frequently with prolonged exposure to sun.

SKU: 10000-102