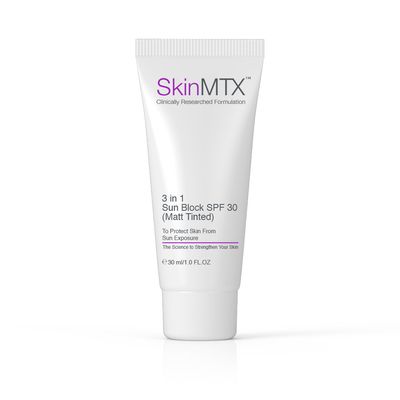 3-in-1 Sunblock SPF 30
Skin MTX
$82.50
Provides UV protection with Sheer Coverage and Mattifies Skin.
30 ml
Stay away from the sun's harmful rays with this amazing 3-in-1 Sunblock SPF 30 with absorbent non-clotting climate control solution. Our formula for full spectrum shielding includes Vitamins A and E, which play important roles in balancing skin's natural defences. Furthermore, infused with Aloe Vera, a long-celebrated ingredient that assists in epidermal hydration and purification, also makes an appearance for an added boost. As a result, bask in pure matt-ness all day, while confidently knowing that skin is being capably moisturized from within.
The 3-in-1 Sunblock SPF 30 naturally shields and nourishes skin every day with this free-radical quenching, vitamin-infused matt SPF 30 sunscreen. Providing a broad spectrum of UVA/UVB plus environmental protection, this light universal-tinted formula corrects uneven skin tones with an immediate refined finish.
Unsurpassed solar defence through superior natural filters and multi-oxidants.
Combats tanning and help prevent skin damage from free radicals and other environmental aggressors.
Effectively prevents cutaneous maturing of the skin induced by UV rays.
Moisturizes from within while keeping complexion continuously matt-free.
Directions for use:
Dab a small amount on thoroughly cleansed and toned face and neck and smooth on evenly every morning. Repeat frequently with prolonged exposure to the sun. We recommend using this product whenever you are going out into the sun, even if it's just for 10 minutes.
SKU: 10000-100