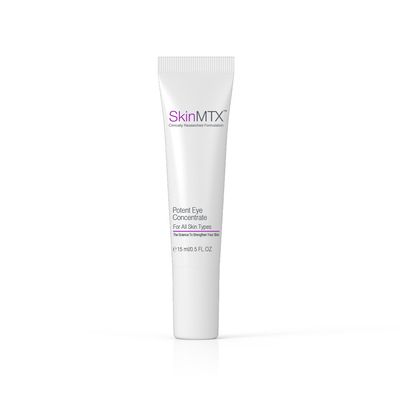 Potent Eye Concentrate
Skin MTX
$82.50
Corrects and Prevents early Signs of Aging on the Delicate Eye Contours.
15 ml
Potent Eye Concentrate dramatically promotes the youthfulness of the eyes with this intensive eye contour formula is specially designed for the skin's most delicate areas. The exclusive combination of advanced actives smoothens, firms and tightens skin texture to reduce the appearance of fine lines, crow's feet and puffiness. It deeply infuses skin with vital moisture, improving skin tautness around the eye area. Its blend of phytonutrients and vitamins helps to strengthen elastin fibres. and shield the delicate skin against environmental stressors. Fortified with Ginseng complex, the concentrate boosts skin's metabolism and collagen-building activities, thus revealing a more youthful and luminous appearance.
Prevents cutaneous cells from surrendering to premature effects of aging, especially around the eyes.
Resoundingly smoothens fine lines with its firming and remineralizing effects
Guards against free radical damage and minimizes irritation due to sun exposure
Preserves youthfulness of eyes by reducing puffiness and easing water retention
Directions for use:
After the cleansing routine, gently smooth a small amount over the eye contour area with clean fingertips. Pat lightly until fully absorbed.
SKU: 10000-99