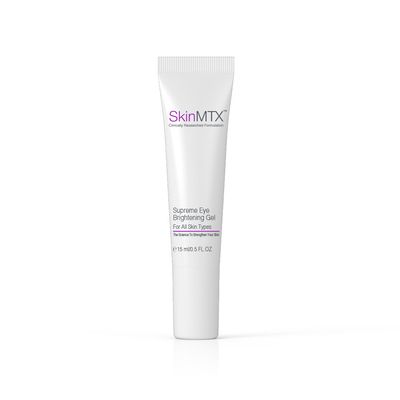 Supreme Eye Brightening Gel
Skin MTX
$82.50
Revives Brilliant Luminosity at the Eye Contours
15 ml
Formulated to target lifelessly dull eyes, this Supreme Eye Brightening Gel rejuvenates eye contours with intense moisture and nutrients to promote an uplifted, rested appearance. Equipped with ingredients rich in nourishing elements, this gel provides effective relief for problems that commonly plague the delicate eye contours. Eye puffiness is visibly reduced as high-performing actives stimulate the drainage of excess fluid while brightening actives aids in diminishing the appearance of dark circles. Efficacious with a soothing effect, the eyes are left looking youthful and vibrant.
Lightens and brightens dark circles while reducing the appearance of eye puffiness
Boosts hydration levels to give an overall appearance of rested vibrancy
Eases and soothes the delicate eye contours while keeping skin taut and supple
Directions for use:
Every night after the cleansing routine, gently smooth a small amount over the eye contour area with clean fingertips. Pat lightly until fully absorbed.

SKU: 10000-98