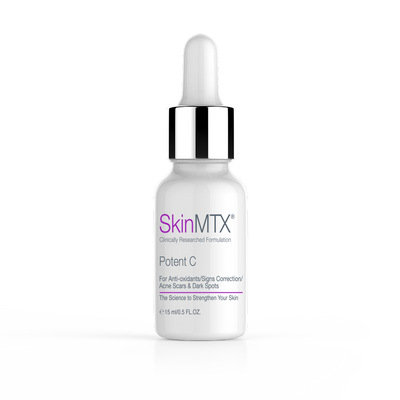 Potent C
Skin MTX
$158.40
Contains a Precise Blend of Vitamin C and Hyaluronic Acid to Prevent Photoaging
15 ml
This Potent C brightening serum contains Vitamin C concentrate which promotes an intensive brightening action to target areas of discolouration. The inclusion of efficacious, potent actives provides targeted action to help lighten the appearance of unsightly marks, dark spots and freckles while building up skin's defences against the formation of future pigmentation. Skin looks rejuvenated as Vitamin C boosts skin elasticity and fights off free radicals to maintain a smooth and clear appearance. Moisture is locked into the skin to keep it looking plump and firm.

Provides lightening and brightening action
Builds skin's defences against future discolouration
Maintains skin youth with hydrating and free radical-fighting actions
Directions of use:
Every evening, apply over thoroughly cleansed and toned face and neck.
SKU: 10000-97