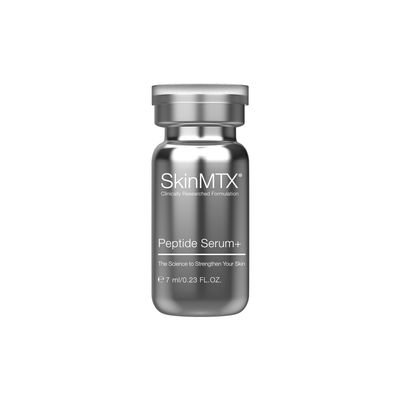 Peptide Serum+
Skin MTX
$37.30
Advanced Multi-Faceted Approach to Restore Skin Cellular Renewal.
e 7 ml
An intensive formulation that contains highly concentrated regenerative actives and peptides that restores and strengthens compromised skin. This versatile reparative serum facilitates skin renewal while helping to diminish the appearance of scars, perfect for use post-aesthetic procedures. Powerful proprietary rejuvenating actives and nutrient clusters are delivered deep into the dermal structures to encourage a healthy equilibrium, reinforcing skin's resilience against environmental aggressors and returning youthful energy to the skin. Skin becomes well-hydrated and complexion glows with a lustrous shine.

Reparative properties accelerate skin regeneration and rejuvenation.
Restores optimal balance in weakened and compromised skin.
Helps unify the complexion and appearance of scars.
Directions for use:
Every morning and evening, apply over thoroughly cleansed and toned face and neck.

SKU: 10000-95