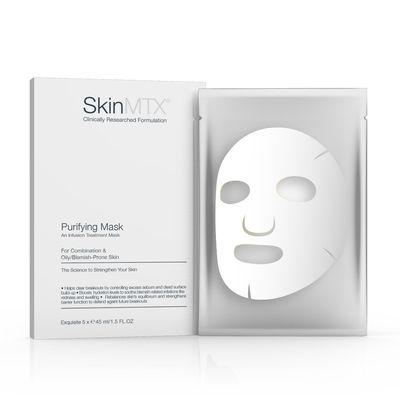 Purifying Mask
Skin MTX
$119.62
Restores Clarity, Controls Shine and Soothes Sensitivities
Exquisite 5 x e 45 ml
This gentle, cooling sheet Purifying Infusion Treatment Mask harnesses the purifying power of Oleanolic Acid to revive a clear and refined appearance. This formula readily targets excess sebum and dead surface build-up to help prevent blemishes and breakouts. A synergistic combination of calming actives, Aloe Vera and Menthol, aids in restoring a healthy, natural equilibrium and combat blemish-related symptoms like redness, swelling and irritation. Your skin revitalizes at an accelerated rate with controlled shine, increased hydration and renewed clarity.

Helps clear breakouts by controlling excess sebum and dead surface build-up.
Boosts hydration levels to soothe blemish-related irritations like redness and swelling
Rebalances skin's equilibrium and strengthens barrier function to defend against future breakouts
Directions for use:
Leave the mask on for 15 minutes before removing it. Remove the mask and gently massage to assist absorption. Wipe off any remaining essence. Do not recycle used masks.
SKU: 10000-93