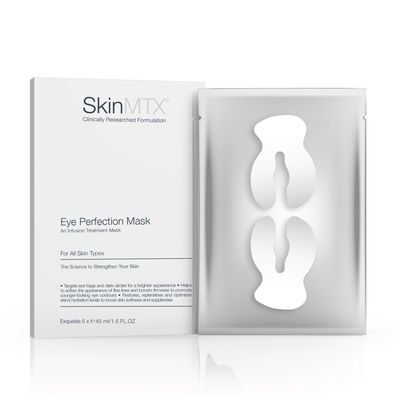 Eye Perfection Mask
Skin MTX
$119.62
A Rejuvenates, De-Puffs and Energizes the Eye Contours
Exquisite 5 x e 45 ml
Designed specifically for the delicate needs of the eye contours, the Eye Perfection Infusion Treatment Mask hydrates your skin. Conforming comfortably to your skin, this mask seals in precious essence that counteracts dryness while targeting visible signs of aging around the eyes. Fortified with Wheat Germ Oil, an active rich in vitamin E and essential fatty acids, the mask softens the appearance of fine lines, and helps to correct dark circles and eye bags. Over time, the eye contours reveal an appearance of youth that is firm, lifted and bright.

Targets eye bags and dark circles for a brighter appearance
Helps to soften the appearance of fine lines and boosts firmness to promote younger-looking eye contours
Restores, replenishes and optimizes skin's hydration levels to boost skin softness and suppleness
Directions for use:
Place mask over the eye contours. Leave the mask on for 15 minutes before removing it. Remove the mask and gently massage to assist absorption. Wipe off any remaining essence. Do not recycle used masks.
SKU: 10000-91