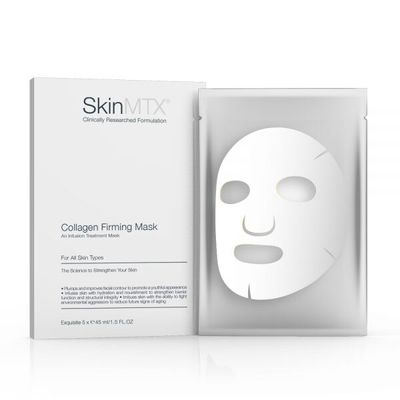 Collagen Firming Mask
Skin MTX
$119.62
Supports the skin's regenerative mechanism.
Exquisite 5 x e 45 ml
This revitalizing Collagen Firming Infusion Treatment Mask adds vitality and helps your skin to restore elasticity. This formula maximizes your skin's power of rejuvenation; tapping into the regenerating properties of efficacious actives. Plant-based sugar, Betaine, drenches your skin with moisture as nutrient-rich Wheat Germ Oil helps strengthen structural integrity and barrier function. Plump with hydration and imbued with the ability to fight against environmental aggressors, your skin is adequately protected against free radicals and the invisible drivers of aging – fatigue, stress and pollution. Day after day, your skin appears visibly uplifted, firm, resilient and restored.

Plumps and improves facial contour to promote a youthful appearance
Infuses skin with hydration and nourishment to strengthen barrier function and structural integrity
Imbues skin with the ability to fight environmental aggressors to reduce future signs of aging
Directions for use:
Leave the mask on for 15 minutes before removing it. Remove the mask and gently massage to assist absorption. Wipe off any remaining essence. Do not recycle used masks.
SKU: 10000-90