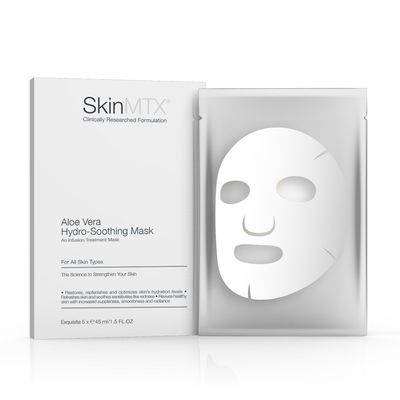 Aloe Vera Hydro-Soothing Mask
Skin MTX
$119.62
Invigorates and Revitalizes Skin with Rich Moisture
Exquisite 5 x e 45 ml
Harnessing the hydrating benefits of Aloe Vera, this Aloe Vera Hydro-Soothing Infusion Treatment Mask transforms the look of dry and sensitized skin. It cools your skin, continuously replenishing moisture levels to improve the appearance of dry lines, flakiness and tightness. Working in tandem with Grape Seed Extract, a botanical active concentrated with free radical-quenching properties, this formula strengthens your skin's natural moisture barrier while boosting natural defences against external aggressors. This formula is further enriched with soothing actives that alleviate signs of irritation. Drenched with hydration, your healthy skin appears smooth, supple and radiant.

Restores replenishes and optimizes skin's hydration levels
Refreshes skin and soothes sensitivities like redness
Revives healthy skin with increased suppleness, smoothness and radiance
Directions for use:
Leave the mask on for 15 minutes before removing it. Remove the mask and gently massage to assist absorption. Wipe off any remaining essence. Do not recycle used masks.
SKU: 10000-89