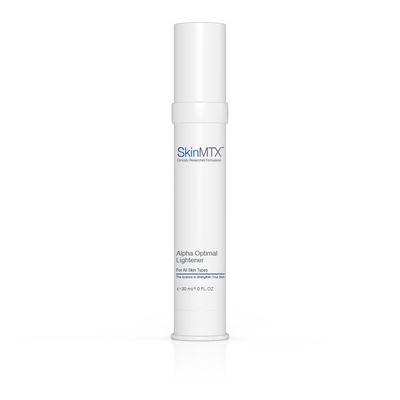 Alpha Optimal Lightener
Skin MTX
$138.59
Lightens Discolorations, Pigmentation and Spots Straight from the Root Source
30 ml
Be completely captivated by Alpha Optimal Lightener whitening essence which hosts an array of skin-nourishing ingredients. Each component is specially picked for its synergistic ability to stimulate cell regeneration for fairer, smoother skin. Pigmentation is treated at the root, by preventing melanin from developing at its source. Most importantly, this whitening essence also targets existing melanin deposits by shattering them. As a result, it reveals a clear white complexion in a shorter time. For best results, use in combination with Alpha Illuminator.

Encourages the eradication of unattractive skin discolourations without the unpleasant side effects
Efficiently restores a lightened complexion in a shorter time as compared to conventional whitening formulas
Reduces the development of spots and freckles at its source by detecting and blocking melanin-producing signals
Ensures excellent hydration control and preserves moisture retention while promoting a matte finish
Directions for use:
Every morning and evening, apply over thoroughly cleansed and toned face and neck. Combine with Alpha Illuminator for optimum skin brightening.

SKU: 10000-85