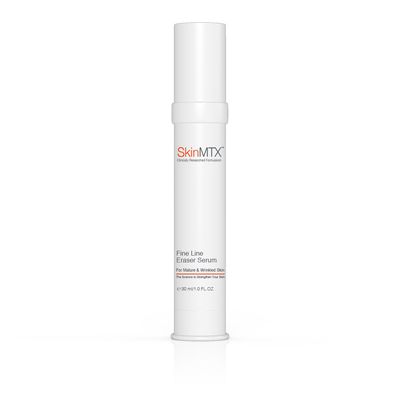 Fine Line Eraser Serum
Skin MTX
$158.40
Specifically formulated for mature skin, this Fine Line Eraser Serum implements a multi-faceted approach to target the causes that contribute to an aged appearance. Youth-enhancing actives target the contraction and movement of facial muscles, relieving tension and overstimulation in the face that causes fine lines, while smoothening the appearance of wrinkles. Deep hydrating actives work efficaciously to tone skin, helping to reinforce its natural protective moisture barrier and maintain optimal elasticity. Free radical-quenching actives provide skin with further nourishment for boosted resilience against further damage to the complexion.
Decisively evens out fine lines for a crinkle-free complexion
Individually conditions every skin cell for added elasticity
Preserves and heightens suppleness with continuous moisturization
Competently fends off free radical damage caused by UV rays and other environmental pollutants
Directions for use:
Every morning and evening, apply over thoroughly cleansed and toned face and neck.
SKU: 10000-83