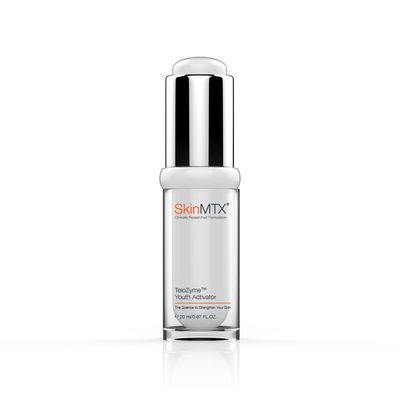 TeloZyme Youth Activator
Skin MTX
$145.20
Reinforce Skin Self-Regenerative Power for Ultimate Density - 20ml
TeloZyme Youth Activator is a revolutionary multi-faceted serum specially formulated to work at the key cell-matrix of skin youthfulness by targeting the health of telomeres. At the core of its formulation is TeloZyme Complex the culmination of a groundbreaking innovation by our scientists designed to reinforce and protect DNA structural integrity. This helps rebuild volume in the skin's framework and redensify from within while retarding skin maturation. The formula replenishes hydration in the skin with HA-Triplex – a multi-weighted Hyaluronic Acid complex that penetrates deeper into the skin, boosting moisture levels. Skin is noticeably firmer, tighter and feels more supple and hydrated. Radiance and luminosity are restored as TeloZyme™ Youth Activator combats signs of aging at every level.
Smoothens fine lines and wrinkles with a potent blend of cutting-edge actives
Plumps, firms and tightens skin volume
Restores skin's youthful glow and suppleness
For best results, use TeloZyme Youth Activator in conjunction with SkinMTX Anti Ageing range.
Directions for use:
Every morning and evening, apply over thoroughly cleansed and toned face and neck.
SKU: 10000-81