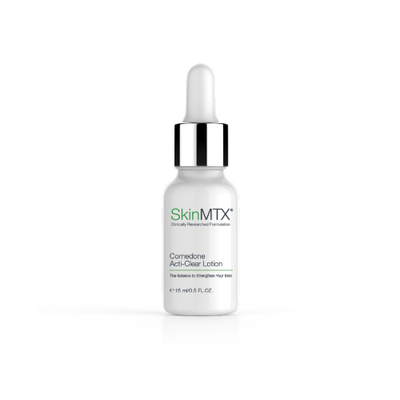 Comedone Acti-Clear Lotion
Skin MTX
$85.79
Unleashes Purifying Power onto Clogged Pores and Blackheads - 15ml
Designed for skin prone to breakouts, Comedone Acti-Clear Lotion is the ultimate formula for the most demanding complexions. At the core of the formulation stands pure Tomato Juice and Salicylic Acid, an optimal blend of two exfoliating actives. The powerhouse lotion zooms in on comedones – simultaneously loosening pore blockages and dissolving excessive surface build-up to prevent the recurrence of blackheads. The lycopene-rich formula further imbues skin with powerful free radical-quenching properties, building up strong resilience against environmental aggressors that contribute to breakouts. Working in tandem with conditioning active, the formula supports skin's crucial renewal processes to smoothen out rough surfaces. Extracts of Chamomile, Calendula and Burdock Root round out the formula, soothing blemish-associated sensitivities like redness and itchiness to reveal a clearer appearance.

Unclogs blocked pores and removes dirt, sebum and other surface impurities
Clarifies refines and smoothens out surface roughness
Soothes blemish-associated sensitivities like redness and itchiness
Directions for use:
Apply directly onto skin or moisten a cotton pad with lotion and wipe gently over face, neck and affected areas, every morning and evening after cleansing. Once absorbed, follow with subsequent day or night skincare.
SKU: 10000-79