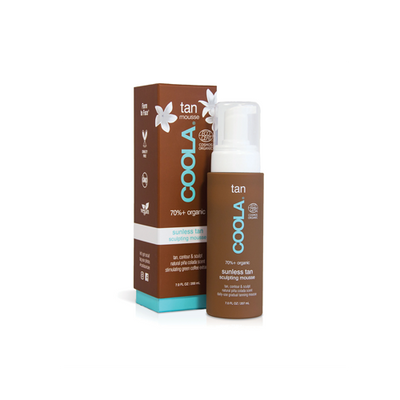 Organic Sunless Tan Sculpting Mousse
Coola
$89.00
The fast-track to a healthy, natural glow. Sculpt away lazy days and reveal your inner goddess with our Organic Sunless Tan Express Sculpting Mousse!
EcoCert® Cosmos Organic certified
70%+ certified organic ingredients
99%+ ingredients from natural origin
Our highest level of DHA, naturally derived from Sugar Beet
Creates a tan within hours
Concentrated Caffeine helps skin appear smoother and firmer
Lightweight and fast-absorbing
Streak-free and transfer-resistant
Natural Piña Colada scent
Vegan
Reef Safe/Reef Friendly
Eco-Slim Active
Proprietary blend of natural Green Coffee extracts that offer contouring and stimulating properties for firmer, smoother looking skin.
Sveltessence
Active ingredient that offers microcirculation and toning benefits.
Centella Asiatica Meristem Cell
Plant stem cell culture from the Gotu Kola plant known to help smooth skin and reduce signs of skin aging.
WARNING : This product does not contain a sunscreen and does not protect against sunburn.

How to use:
For maximum color, dispense generous amount into hand or applicator side of COOLA's 2-in1 Mitt, and spread evenly across body. Massage in circular motions and let dry before dressing. Allow 2-4 hours for tan to fully develop and reapply as needed. Allow 6-8 hours before showering. For best results, exfoliate skin with COOLA's 2-in-1 Mitt prior to use.
SKU: 10000-50