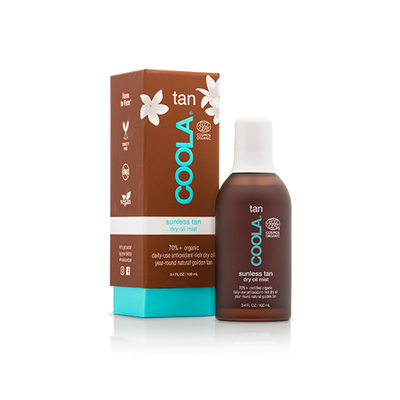 Organic Sunless Tan Dry Oil Mist
Coola
$82.00
Finally - a healthy and youthful-looking tan is yours without exposure to harmful UV rays. Our 70%+ organic Sunless Tan Dry Oil Mist offers a buildable, natural-looking radiance that lasts up to 3 days. Indulge your skin with this fast-drying, streak-free and transfer-free, botanically enriched golden blend of Argan Oil, Vitamin C, Hibiscus and Chamomile Extract.Go ahead, get glowing!
Eco-Certified Cosmos Certified
Non-GMO
Vegan Friendly
Cruelty-Free
Paraben-Free
Phthalate-Free
Synthetic Colorant-Free
Perfume-Free
Retinyl Palmitate-Free
Streak-Free
Transfer-Free
Antioxidant Enriched
Argan Oil
Dubbed as "liquid gold", Argan Oil is extremely rich in beneficial nutrients including fatty acids and vitamin E. Its properties make it ideal for moisturising and conditioning skin.
Aloe Vera Extract
Traditionally used in herbal medicine for wound care, sunburn and minor skin irritation. Provides outstanding hydration in body care products.
Hibiscus Flower
From organic farming, high in antioxidants and amino acids, it has been shown to have wrinkle-smoothing properties.
WARNING: This product does not contain a sunscreen and does not protect against sunburn.

How to use:
Hold sprayer two to four inches from body and apply liberally micro-mist directly onto skin. Rub oil onto skin in a circular motion then let dry before dressing. Apply again for a deeper shade. Let the tan develop for six to eight hours before showering. For best results, exfoliate before applying COOLA's Self-Tanning Body Oil Mist.
SKU: 10000-49