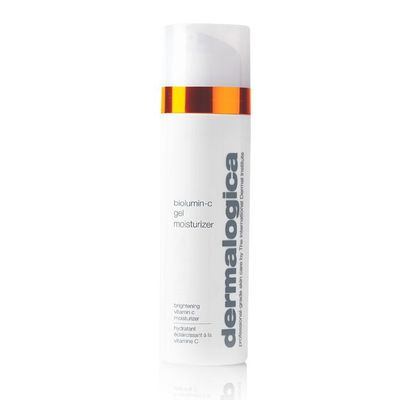 Biolumin-C Gel Moisturiser
Dermalogica
$138.00
Biolumin-C Gel Moisturiser
Daily brightening gel moisturiser provides weightless hydration and gives skin a radiance boost for healthy-looking skin. Highly-stable Vitamin C complex utilizes advanced re-activation biotechnology to help boost bioavailability of Vitamin C for brighter skin and improved barrier defense. Antioxidant-rich formula with Squalane and five different types of Hyaluronic Acid delivers essential hydration to help minimise the appearance of fine lines and wrinkles. Verbascum Thapsus Flower Extract provides an instant brightening effect. Phytic Acid and Pumpkin Enzymes with exfoliating properties support natural skin renewal.
Brightens instantly and over time
Hydrates for more luminous skin
Renews for a natural glow
After cleansing and toning, apply over face and neck in light, upward strokes.
Use twice daily, morning and night.
Allow one minute for product absorption.
For daytime use, follow with an SPF.
50 ML

SKU: 10000-11