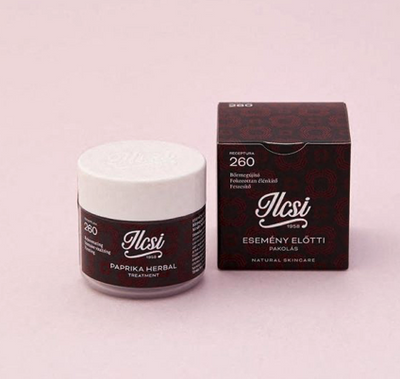 Paprika Herbal Treatment
$64.40
For all skin types – with the precious ingredients of hot paprika. The active ingredients of St. Jones' Wort, walnut, sage, horsetail, and hot paprika are so invigorating that skin visibly becomes supple and firm.
Directions for use:
Apply it evenly on the face in a thin layer, leaving out the area around the eyes and mouth. Allow it to dry, then peel it off from the top to bottom. Note that the stimulating effect causes a tingling sensation until it dries. It can be layered on the AHA Fruit Pulp Treatment. Do not use in case of histamine sensitivity. If sensitivity, nausea occurs drink a glass of water with lemon and immediately wash the mask off.
This treatment mask will need to be used within a facial service before it can be purchased to ensure correct usage and knowledge of the masks effects.
50ml
SKU: 10146