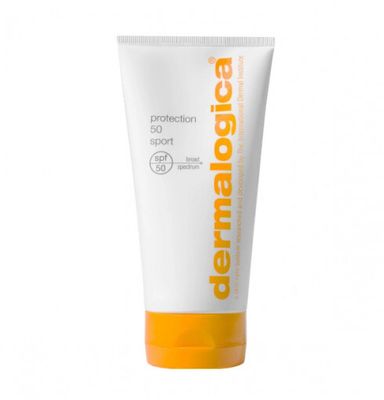 Protection 50 Sport spf50
Dermalogica
$77.00
Protection 50 Sport spf50
This sheer solar protection treatment defends against prolonged skin damage from UV light and environmental assault. Oleosome microspheres help enhance SPF performance and counteract moisture loss triggered by extended daylight exposure. Lightweight formula helps neutralize damage and bind moisture to skin without a greasy after-feel.Size: 156ml
parabenfree
glutenfree
crueltyfree
vegan friendly
no artificial fragrancesand colours
benefits
oleosome microspheres help enhance spf performance and counteract moisture loss.
antioxidants diffuse free radicals, and help protect skin from the elements.
non-greasy formula feels feather-light and comfortable on skin.
how to use
Use daily on face and body for year-round protection against sun damage. Apply liberally and evenly to skin, preferably 15 minutes prior to sun exposure. Pay special attention to commonly exposed areas, such as the hands. For continuous protection, apply regularly and reapply as needed after swimming and exercise.
SKU: 10128