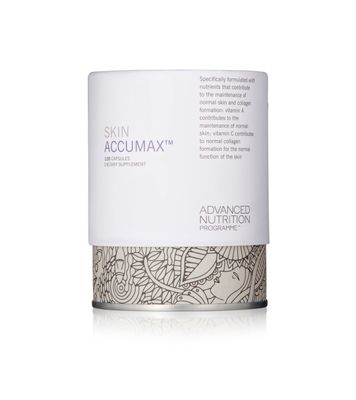 Skin Accumax™
Advanced Nutrition
$210.00
Skin Accumax™ is a patented skincare supplement for those who suffer from blemish prone skin. It works from the inside to clarify and clear the complexion.
Benefits:
Works from the inside and nourishes all layers of the skin to help clarify and clear the complexion
Feeds every cell in the body so can help support all areas of affected skin, such as the face, chest, back and shoulders
Helps to calm and soothe the skin
Doesn't contain harsh chemicals and won't cause dryness or flakiness
Helps to support skin health
Take one or two capsules twice a day with meals or as your health professional advises. To get the full benefit of this product, we recommend starting with two Skin Accumax™ twice a day for at least 14 weeks. However some people choose to take this dosage for several months for best results. After this time you may wish to reduce to one capsule twice a day.

Store below 25°C in a dry place away from direct sunlight and heat.
SKU: 10067-1